You can't keep a Frenchman away from his bread, and here's one way I keep him happy:
Ingredients
200g of flaxseed meal (I put the seeds in my coffee grinder and made the meal myself)
50g mixed seed (pumpkin, sunflower and pine nuts)
20g psyllium husk powder
2 teaspoons of baking soda
300ml of water
2 eggs
Handful of seeds to press into the top of the loaf
Method
Mix all the dry ingredients, apart from the handful of seeds for the top of the loaf, in a bowl.
Add the water and eggs into the dry ingredients, mix with a spoon, then give it a good kneed with the hands.
Transfer the mixture to a baking tray with either a silicon mat or grease proof paper, and shape into the loaf shape, I went for round. Press the handful of seeds into the top of the loaf.
Now put the oven on to 190C, I bet you thought I'd forgotten that bit! This gives the loaf time to rest and grow.
Once your oven is up to heat, pop the loaf in the middle and cook for an hour or so.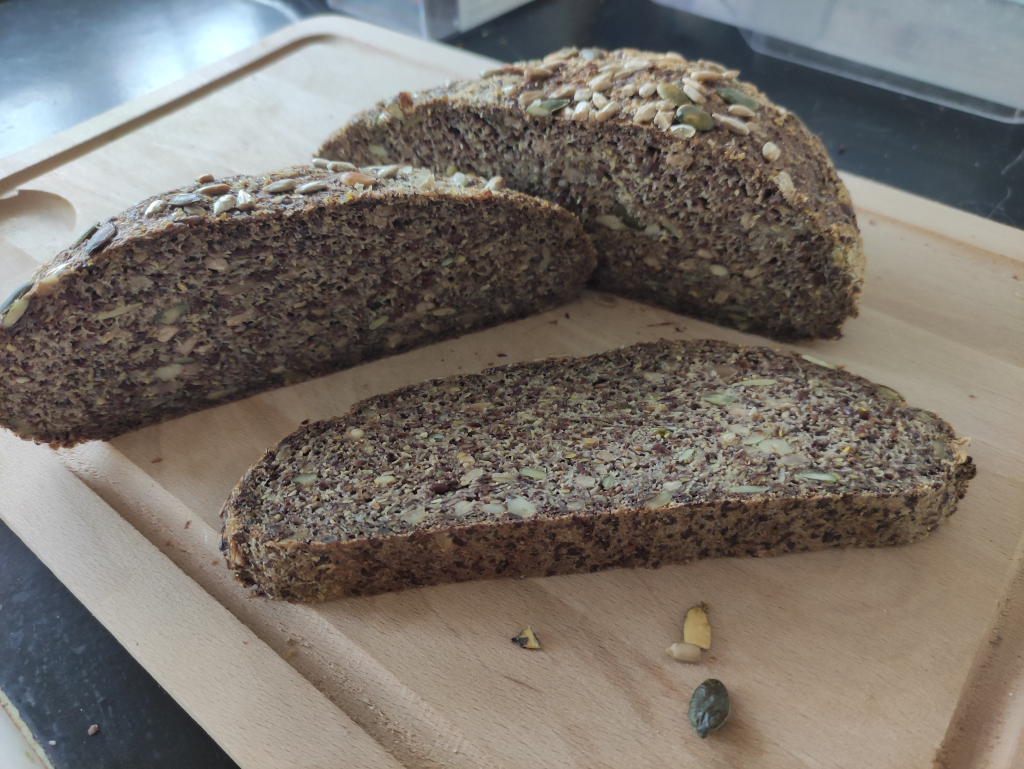 The effect of the bread, ingested on its own (no pre-loading) 3.5 hours after dinner to minimise impact from other food was minimal, with a spike at +10mg/dl within 30 minutes, and a return to baseline in 1-1.5 hour. It's very different from wheat bread (including semi-rye such as black bread), which makes the glycemia spike at +30/+40mg/dl for several hours.
It is possible that the seeds help keeping the impact low by pre-loading with fat via coingestion.